How to Install a OffshoreElectrics Water Cooling Plate on a Barracuda 80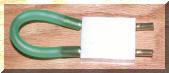 A cool running control will run more efficiently and last longer than a overheated one. One of the benefits of running more efficiently is a small gain in performance! This is a simple 1/2 hour installation.

Things needed to complete the install.

Small scissors or razor.
2" wide shrink wrap, approx 3" long.
2 1/4" wide shrink wrap, approx 3" long.
OffshoreElectrics Barracuda Cooling Plate.
Thermal grease
Heat gun or hair dryer.

First we need to carefully cut off the original shirk wrap on the Castle Creations Barracuda 80 esc. Take care not to cut into the circuit board at all. Also this control is a multi layer control. Which means there are several circuit boards in one unit. Make sure not to twist or deform the boards in any way.
Once the shrink wrap is removed place the circuit board in a safe place. Take your thermal grease and put a thin coating of it on the back of the cooling plate. Now place the plate on top of the black fets that are lined up on the circuit board. BE SURE TO KEEP THE COOLING PLATE AWAY FROM THE MOTOR AND BATTERY POWER WIRES! It should look like this.
Now you will need a piece of 1.75" - 2" wide shrink wrap. Cover the capacitors only. This is an important step. If these are not protected from bending they could eventually break. It should look like this.
Now its time to shrink the shrink wrap over the capacitors. Once this is done use a bit larger piece of skink wrap to cover the center section of the circuit board and new cooling plate. This will hold the plate in place. Take care to make sure when you are shrinking the wrap on the center section that the plate doesn't move and touch the power wires or the motor wiring. If so it will lead to the destruction of the esc once you try to use it. Once its done it should look like this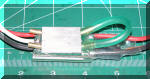 Picture #3 Finished Unit.

Your ESC will be much a much happier camper running at lower temperatures!


Take care to make sure the system is water tight. If not water will flow onto the circuit board and short it out. Also once the shrink wrap is hard the plate should not move at ALL! If it does the shrink wrap was not heated enough or you used a piece of shrink wrap that was too large.

Login Status
Not logged in
»
Login