Miscellaneous Motor Tips
Drive Line Tip

Use a dremel tool or file to apply a flat spot to motor shafts or drive shafts. This helps keep the shaft from loosening and spinning in couplers.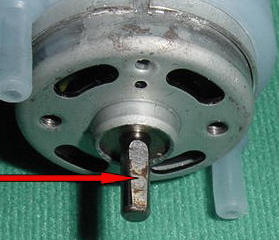 ---
Don't Let that Expensive motor "Fry"!

To test for motor heat, have an adult give the motor the 5 second test. Which is, hold your finger on the motor for 5 seconds. If its so hot you can't hold it for 5 seconds, its too hot. Allow to cool fully before running again!
---
Don't watch it sink!
Never skimp on extra floatation in your hull. Some of the things used to help keep you hull floating if it rolls over and starts to fill with water are styrofoam, shipping air bags & swimming pool noodles. I don't suggest the foam in a can, because it expands and can cause damage to the hull. Also I like things that can the removed and dried out.
Don't loose that expensive, hard to replace hatch!
Tape styrofoam to the underneath of the hatch cover, when it gets torn off in an accident it wont sink!
---
To Stop Radio Glitches

To help radio interference from motor noise use our capacitors or Radio Shack's part #272-135 capacitors. They should be soldered to the motor case and positive and negative tabs on the motor like this.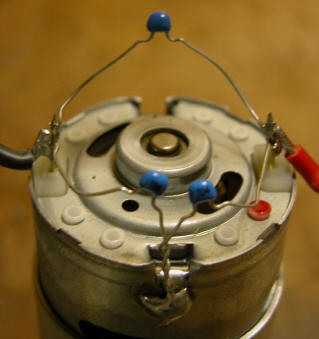 Login Status
Not logged in
»
Login