OSE Race Sponsorships
We are committed to helping the local clubs and organizations in the racing scene. This does two things. First it helps the great guys that support/patronize the OSE forums and products. Secondly in turn, the valuable information they learn from racing on the cutting edge is funneled down to the average rc boater. Saving the average boater lots of time and money in the long run!

We will periodically update this page with pictures of the guys & girls that make the club racing possible.

---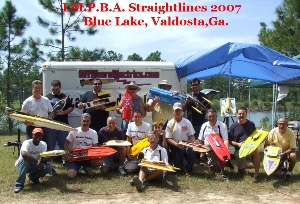 Valdosta, GA Impba Straight lines Sept 2007.
There were 12 records set in Valdosta.

P-Tunnel Mike Martin 3.145 secs. 71.542mph Fastest Pass 71.724mph

Q-Tunnel Mike Martin 3.045 secs. 73.891mph Fastest Pass 73.915mph

N-2 Sport Hydro Paul Pachmayer 2.903 secs. 77.506mph Fastest Pass 80.440mph

S-Sport Hydro Paul Pachmayer 2.669 secs. 84.301mph Fastest Pass 84.580mph

S-Hydro Paul Pachmayer 2.610 secs. 86.206mph Fastest Pass 88.932mph

P-Mono Ken Haines 3.427 secs. 65.655mph Fastest Pass 65.847mph

O-1 Sport Hydro Bill Oxidean 6.491 secs. 34.663mph Fastest Pass 35.839mph

N-1 Sport Hydro Casey Smock 8.044 secs. 27.071 mph Fastest Pass 29.465mph

N-2 Mono Casey Smock 3.688 secs. 61.000 mph Fastest Pass 60.041mph

N-1 Hydro Chris Harris 6.280 secs. 35.828 mph Fastest Pass 37.394mph

N-2 HydroChris Harris 2.752 secs. 81.758 mph Fastest Pass 83.736mph

P-Hydro Chris Harris 2.184 secs. 103.021 mph Fastest Pass 106.182mph
---

Shopping cart

Login Status
Not logged in