How to Waterproof a Rx (radio receiver) with Conformal Epoxy.
Picture this! You finally make time to get to your local body of water to run your favorite boat for the afternoon, when on the first run you have a blow over and soak all of your equipment! Bummer right? Not when the proper precautions are taken! In this "how to" we will be coating the circuit board of our receiver with a special non-conducting epoxy! This job will take about 30 to 60 minutes depending on how quick you work. This is by far the best way to protect your investment! A balloon is normally used and good for water resistance. But at the end of the day a balloon should be removed (because of condensation) and that could be a real pain. Besides if your receiver is completely submerged under water the balloon will most likely leak and cause a short.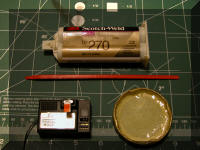 There are very few things needed to complete this important step in insuring a happy day at the lake. Of course you will need your receiver of choice. A old jar lid or something else to mix the epoxy, The epoxy and a plastic stirrer (something that can be throw away). There are two tools that would make this job easier but they are very expensive. One is a special epoxy gun to push the plungers and the other is a special mixing nozzle. There are places to buy both of these for about $50-$60. But I'm going to show how to do this without those tools.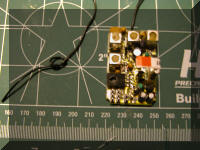 First thing to do is remove the circuit board from the plastic receiver case. Next we will need to find somewhere to hang the board when we are done with it, to let the excess epoxy drip off. I hang my receivers from a hook on the wall and use a piece of newspaper underneath to catch any drips. I just put a small knot in the antenna to hang it.



On the left are the plungers we are going to push to make the epoxy come out. We have to be careful to make sure to push both equally. We want equal parts of epoxy to come out. Push the plungers slow and steady. For the average size receiver we are going to push out about the size of a half dollar into our lid.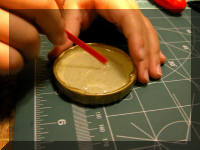 Its time to mix the epoxy. I use the long lengths of left over zip ties. They are flexible and one end usually has a bit of a point. Make sure to mix the two parts of the epoxy very well for about a minute!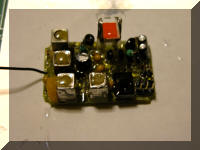 Ok! Now for the fun part. I do the side in the picture first, its the hard part. There are lots of little surface mounted parts to get between. Start off by putting the receiver on a piece of scrap paper. Next scoop up a small amount of epoxy and start working it around the components. Make sure to take your time and use the pointed part to push the epoxy around. One of the decisions you are going to have to make at this point is, are you ever going to need to remove the crystal? If you will never take out the crystal, epoxy the entire crystal. If you will be changing frequencies, be careful not to epoxy it in there! Also be careful not to get to much on the servo outputs and battery inputs. If you do don't worry. When it hardens use an exacto knife to chip it off the brass terminal posts.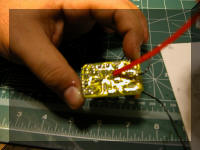 Now its time to flip the receiver over and coat the back. It gets a bit sticky, so try to have enough epoxy so you don't have to put it down. Once the back is fully coated, hang it up by the antenna and re-apply epoxy to the places that you were touching with your fingers!

Now there are many other ways to do this without getting your fingers dirty. With the very first one I coated, I built a small box out the exact size of the receiver out of scrap abs. Than placed the receiver into the box and poured the epoxy in. The end result was receiver that looked like in was in a block of ice. The only problem was this way used alot of epoxy and this stuff is expensive.
This is the finished product. Everything looks nice and shinny! If you missed any spots just recoat. This process can also be used on ESC's. Most of the custom ESC's we carry come with this coating already.

Now keep in mind that nothing is 100% waterproof. Water has a way of finding its way in somewhere. This process will go a long way to saving an Rx that has been submerged. I've had Rx and ESC's (coated in this epoxy) that have been under water for 15 minutes. We just empty the water out of everything, re-lube the motor and we're back in business within minutes, instead of days!

A special thanks goes to Andy Kunz of www.Rc-hydros.com for the tip on the which epoxy to use without interfering with the radio signal of our equipment. Andy also builds one heck of a electronic speed control that we sell!

Login Status
Not logged in
»
Login